The best place to consign your watch in Singapore!
We helped to sell more than 9,000 watches at Watch Link, we are one of the most reputable and trustable luxury watch boutiques in the Singapore Orchard Road shopping precinct.
While the biggest perk of selling your watch directly is the ability to get paid without having to wait for it to be sold, we offer Consignment service for sellers as well!
Why consigning your watch is better than sell it your yourself?
Consigning your watch offers more flexibility when it comes to pricing and our team of horologists will advise you on the best value for your timepiece. You will not receive an upfront cash payment when consigning your watches at Watch Link until the watch is sold. Before consignment, we will discuss the pre-fixed commission amount with our client.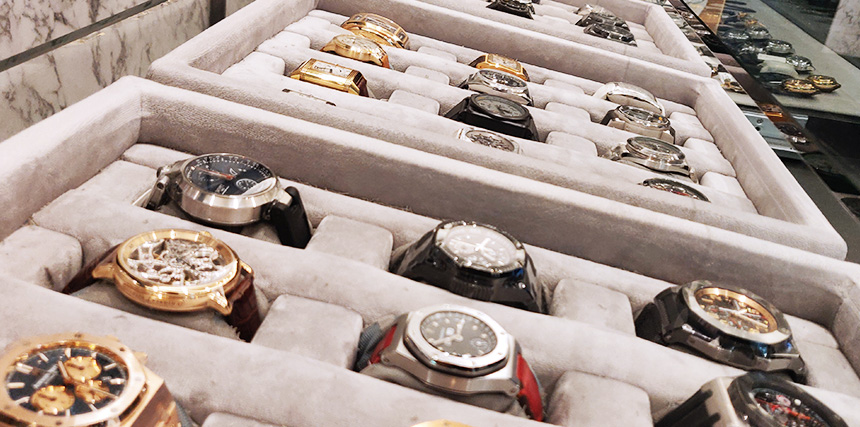 The FREE Consignment process
After confirmation on the selling price, we will be promoting the watch on various channels such as our website, social media as well as our exclusive buyer/seller WhatsApp groups. We recommend the consignment period to be at least 30 days as it is the ideal turnover duration.
All you will have to do is leave the watch, box, papers and any extra you want to be sold with in our boutique at Far East Plaza Shopping Centre: our team will take care of photos and any other needed extra research that might be useful to get a great deal from your timepiece.
The best brands to consign in Singapore
We offer consignment for different brands such as Patek Philippe, Richard Mille, Audemars Piguet, Rolex, IWC, Omega, Tudor, Panerai and many more (have a look at our catalogue page to see the 50+ brands we sell, consign and trade at our central Singapore watch shop)
Contact our in-store team and consign Today!
If you want to speak to one of Watch Link specialists about a watch you are considering to sell, simply head down to our boutique at Far East Plaza (Orchard Road shopping precinct) or contact the team via Whatsapp at +65 87766935. That's it!